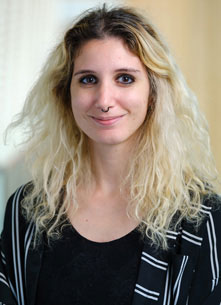 valentina.butto@uqat.ca
Valentina Buttò était chercheuse postdoctorale à l'Institut des Sciences de la Forêt Tempérée (ISFORT), rattaché à l'université du Québec en Outaouais et à l'Université du Québec à Chicoutimi où elle travaillait sur un projet portant sur les processus physiologiques expliquant la croissance et la coulée de l'eau d'érable. Valentina a réalisé un doctorat en sciences de l'environnement à l'Université du Québec à Chicoutimi avec une thèse portant sur la modélisation des facteurs développementaux et environnementaux déterminant l'anatomie et les variations de densité du bois chez l'épinette noire. Elle détient une maîtrise en foresterie et sciences de l'environnement de l'Università di Padova (Italie) où elle a étudié les variations dans l'anatomie de quatre conifères à la limite des arbres sur les Alpes italiennes et les Alpes suisses dans un projet en collaboration avec le Swiss Federal Institute for Forest, Snow and Landscape Research (WSL).
Formation académique
2021-2022: Post-doctorat, Université du Québec en Outaouais
2017-2021: Doctorat en Science de l'environnement, UQAC
2013-2015: Master in Forest and Environmental science, University of Padua, Italy
2009-2013: Baccalauréat in Forest and Enviromental science, University of Palermo, Italy
Autres sites à consulter :
Centre d'étude de la forêt (CEF)
&nbsp
Twitter
&nbsp
Symphonie Boréale
&nbsp
Je n'ai aucune offre de projet pour le moment mais je recrute régulièrement de nouveaux étudiants de maîtrise et de doctorat. Je suis professeur habilité à diriger des étudiant(e)s au programme réseau de doctorat en sciences de l'environnement du réseau UQ. N'hésitez pas à me faire parvenir votre CV ainsi qu'une lettre de motivation.
Roberto Silvestro, Valentina Buttò, Jean-Daniel Sylvain, Ghislain Drolet, Annie Deslauriers, Sergio Rossi. Pics synchronisés d'assimilation de carbone et de différenciation cellulaire durant la formation du bois chez les conifères de l'hémisphère nord 16e colloque annuel du CEF, Université de Montréal (2023-05-08)
Valentina Buttò Observer et comprendre les arbres dans un monde qui change Axe écologie UQAM (2023-02-01)
Valentina Buttò Présentation publique portant sur son expertise en recherche et les travaux qu'il planifie effectuer en lien avec le poste recherché Candidate au poste de professeure régulière en sciences forestières avec enseignement en biostatistiques - UQAT (2022-04-26)
Valentina Buttò Donne-toi du temps si tu veux grandir ! Une relation quantitative entre les dynamiques de formation et les traits anatomiques des cellules du xylème. 13e colloque annuel du CEF, Université du Québec à Chicoutimi (2019-05-01)