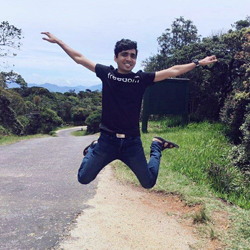 supunmadhumadhawa.pawuluwage@uqat.ca
Hi, I'm Supun and I came from Sri Lanka, a beautiful island located in the Indian ocean. Since I was born and bred in tropical forested environment I wanted to explore creations of nature under science background. Also, I love to be in Boreal forests.
Projet de recherche : Below-ground facilitation between tree species in the revegetalization of a degraded site
Supun Madhumadhawa Pawuluwage. Mycorrhizal communities and their effect on tree growth at a post-mining site/ Les communautés mycorhiziennes et leur effet sur la croissance des arbres sur un site post-minier. 2021. Mémoire de maitrise en écologie, Université du Québec en Abitibi-Témiscamingue 80 p.

voir la liste complète
Supun Madhumadhawa Pawuluwage, Philippe Marchand. Facteurs influant la facilitation entre les espèces d'arbres boréaux pendant le processus de régénération dans un site post-minier 3e colloque annuel de la Chaire industrielle CRSNG-UQAT sur la biodiversité en contexte minier. Université du Québec en Abitibi-Témiscamingue, Rouyn-Noranda, Québec. (2021-04-21)
Supun Madhumadhawa Pawuluwage Mycorrhizal communities and their impact on tree growth at a post-mining site Séminaire maîtrise (2020-12-17)