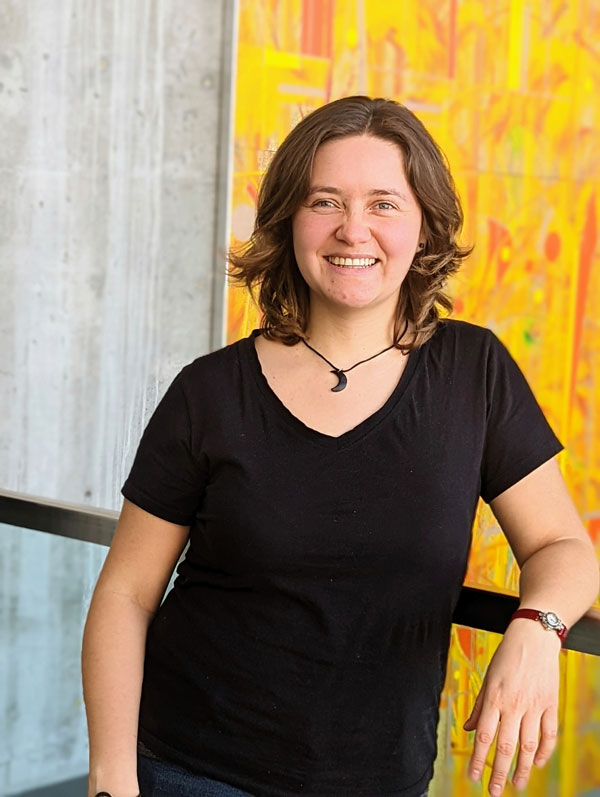 juanita.rodriguez@uqat.ca
Juanita détient un baccalauréat en biologie de l'Université Javeriana (Colombie), deux maîtrises en Biologie synthétique et en Biotechnologie en haut débit de l'École supérieure de biotechnologie de Strasbourg (France) et un doctorat en sciences de l'environnement à l'IRF-UQAT. Elle continue son parcours en recherche avec un post-doctorat sur les traits fonctionnels de bryophytes et lichens, au Laboratoire de Bryologie de l'UQAT sous la supervision de Nicole Fenton.
En raison de ses années d'expériences en tant qu'étudiante, elle comprend bien les diverses difficultés auxquelles les membres étudiants sont confrontés dans ce champ d'expertise et maintenant, elle est là pour vous aider comme professionnelle de recherche en statistiques dans l'équipe du Centre d'étude de la forêt (CEF). Juanita est disponible pour apporter son soutien aux étudiantes et étudiants qui font partie du regroupement du CEF.
Vous pouvez la rejoindre par courriel à l'adresse suivante : juanita.rodriguez@uqat.ca. Elle est aussi disponible (sur rendez-vous seulement) au local E 212 au campus de l'UQAT à Rouyn-Noranda et au local 6036 au campus d'Amos.
Junanita a été finalise au concours « ma thèse en 180 secondes » édition 2019. Vous pouvez lire l'entrevue de Juanita sur le site de l'Acfas.
Formation académique
Doctorat en écologie, Université du Québec en Abitibi-Témiscamingue (2022)
Master en Biotechnologie spécialité Biologie Synthétique et Biotechnologie à Haut-Débit. École Supérieure de Biotechnologie de Strasbourg (ESBS), France. Programme trinational à Strasbourg, Fribourg et Bâle
BSc en biologie. Pontificia Universidad Javeriana. Bogotá, Colombie
Autres sites à consulter :
Centre d'étude de la forêt (CEF)
&nbsp
Projet de recherche :
Footprint of mining activities on diversity and terrestrial ecosystem processes throughout the mine's life cycle.