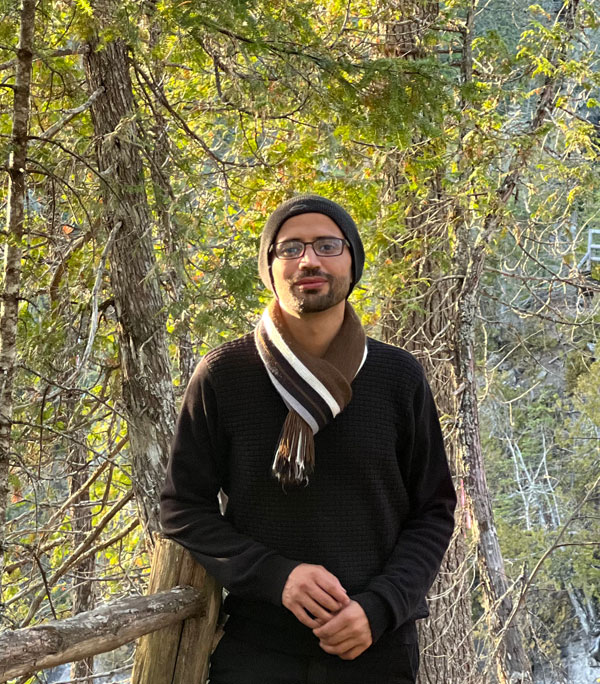 abderrahmane.ameray@uqat.ca
Après avoir réalisé une expérience enrichissante sur le bilan du carbone forestier dans les forêts méditerranéennes, modélisation et cartographie, je suis ravi d'approfondir mes connaissances sur ces thèmes dans les forêts boréales avec des chercheurs et experts célèbres au niveau international.
Je vais mieux comprendre les effets à long terme des différents scénarios d'aménagement forestier ainsi que les perturbations naturelles sur le bilan carbone dans les forêts boréales à l'échelle du peuplement et du paysage.
Formation académique
2019 - 2023 Doctorat en sciences de l'environnement, Université du Québec en Abitibi-Témiscamingue. Rouyn-Noranda, Québec, Canada
2017 - 2018 Maîtrise en gestion des écosystèmes forestiers, Institut polytechnique de Bragança. Bragança, Portugal
2012 - 2017 Ingénieur agronome, Institut agronomique et vétérinaire Hassan-II. Rabat, Maroc
Projet de recherche : Modelling boreal forest carbon budget dynamics under natural and anthropogenic disturbances along a longitudinal gradient in Quebec
Carbon sequestration by forest ecosystems is a part of the climate change mitigation strategy identified by the intergovernmental panel on climate change (IPCC). However, boreal forests will be experiencing significant impacts under climate changes, mainly the alterations of natural disturbances cycles (wildfires, epidemics, windthrow). Increasing carbon sequestration in boreal forests and wood products through appropriate silvicultural treatments could be an effective tool to mitigate and adapt to climate change at regional and national scales. The purpose of this research is to characterize the relationship between timber production and carbon sequestration, considering the effect of different forest management strategies and natural disturbances regime. Our study aims to model and assess the carbon budget dynamics of managed forests along a longitudinal gradient, by testing different combinations of silvicultural treatments, natural disturbances, and climate change scenarios at two different scales: landscape and stand level. During those simulations, the LANDIS-II model will be used as a mechanistic model and the CBM-CFS3 model as an empirical model. The study sites are located in sensitive areas near the northern limit of Québec's managed forest.