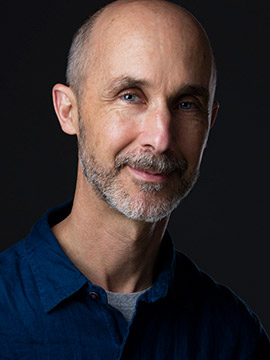 kneeshaw.daniel@uqam.ca
Le Dr Daniel Kneeshaw est titulaire d'un B.Sc. en foresterie de l'université de Toronto (1989). Il a travaillé dans les forêts résineuses au Manitoba et en Colombie-Britannique avant d'entreprendre une maîtrise en écologie forestière à l'Université de Colombie-Britannique (1992) et un doctorat à l'Université du Québec à Montréal (1997). À la suite d'un stage en tant que boursier post-doctoral CRSNG à l'université Laval (1998-1999) il devint chercheur à la Direction de la recherche forestière (DRF) du Ministère des ressources naturelles de Québec. À la DRF il s'est intéressé à l'écologie et à la sylviculture de la forêt mixte. Depuis 2001, le Dr Daniel Kneeshaw est professeur au Département des sciences biologiques à l'UQAM et est membre régulier du CEF. Ses travaux de recherches portent sur la gestion durable des forêts, la dynamique de la forêt après perturbations, l'écologie de la forêt mixte, les techniques sylvicoles alternatives, la mortalité des arbres et la dynamique des trouées.
Autres sites à consulter :
Centre d'étude de la forêt (CEF)
THÈMES DE RECHERCHE
Outils de gestion durable des forêts
Depuis plusieurs années la société demande que les forêts soient aménagées de façon à respecter ses ressources. La gestion durable de nos forêts doit donc considérer la biodiversité, la productivité, les sols, les milieux aquatiques et les besoins de la société autant que le maintien de la ressource ligneuse. Pour ce faire il faut suivre une approche multidisciplinaire. Il faut aussi considérer l'effet des interventions à plusieurs échelles spatiales et temporelles. Les recherches du Dr Kneeshaw ont pour but de développer et d'intégrer des indicateurs de gestion durable des forêts dans l'aménagement forestier. Afin de lier ces indicateurs à la gestion écosystémique il est proposé d'utiliser une meilleure connaissance de la réponse de la forêt après perturbations naturelles afin de définir des indicateurs et des seuils de changements forestiers acceptables. La modélisation permet une évaluation par différents intervenants (autochtones, forestiers, etc) de la réponse des indicateurs aux différentes stratégies d'aménagement forestier à travers plusieurs révolutions forestières ainsi qu'à plusieurs échelles spatiales. Finalement, ces travaux doivent être intégrés avec ceux d'autres disciplines pour améliorer les décisions relatives à l'utilisation des forêts.
Mortalité et dynamique des peuplements
Trois facteurs contrôlent la dynamique des populations des individus: le recrutement, la croissance et la mortalité. Les taux de mortalité de différentes espèces déterminent les­quelles survivront et domineront la forêt. Cependant, pour les arbres des forêts mixtes et boréales, peu d'information existe concernant les facteurs influençant la mortalité. L'impact sur la forêt de la mortalité serait aussi différent selon le stade de développement de l'arbre (semis, gaulis ou adulte). La mortalité chez les jeunes déterminera quels individus seront recrutés tandis que la mortalité chez les adultes déterminera les ressources qui seront disponibles. Plusieurs facteurs affectent aussi la mortalité comme la taille des individus, l'espèce, la présence d'herbivores et les conditions environnementales. Afin d'améliorer nos connaissances relatives à la dynamique des peuplements plusieurs projets touchant des aspects de ce volet sont en cours.
Trouées, dynamique forestière et maintien des forêts anciennes
En forêt boréale, l'importance des feux sur la dynamique forestière a été reconnue depuis longtemps. Cependant, plusieurs régions de la forêt boréale ne brûlent que rarement. Une fois que l'intervalle entre les feux excède la longévité des arbres, les perturbations de petite envergure (ex. trouées) influencent davantage la dynamique de la végétation. Ces forêts qui sont vieilles ont largement été éliminées par la foresterie tradi­tionnelle. Malgré ceci, il existe peu d'information à l'heure actuelle sur la dynamique naturelle de ces vieilles forêts et les trouées qui les dynamisent. Comment est-ce que les ouvertures affectent la composition et la structure de ces forêts et est-ce que cela varie selon l'échelle (peuplement vs paysage) ou la région ? Il est important de comprendre ces facteurs afin de mieux développer des systèmes forestiers qui imitent les perturbations naturelles ainsi que pour comprendre l'écologie des forêts anciennes.
Formation académique
POST-DOCTORAT
---
DOCTORANT
---
ÉTUDIANT(E) à LA MAîTRISE
---
STAGIAIRE
---
Je n'ai aucune offre de projet pour le moment mais je recrute régulièrement de nouveaux étudiants de maîtrise et de doctorat. Je suis professeur habilité à diriger des étudiant(e)s au programme réseau de doctorat en sciences de l'environnement du réseau UQ. N'hésitez pas à me faire parvenir votre CV ainsi qu'une lettre de motivation.
Daniel Kneeshaw La prochaine épidémie de la TBE (tordeuse des bourgeons de l'épinette), l'aménagement forestier et les changements climatiques: À quoi doit-on s'attendre?
Midi-foresterie (2011-11-08)
Daniel Kneeshaw Évaluation des liens entre le RNI (Règlement sur les normes d'intervention dans les forêts du domaine de l'État) et les critères de l'aménagement durable des forêts. (33 diapos.).
5e colloque de la Chaire AFD. Université du Québec en Abitibi-Témiscamingue, Rouyn-Noranda, Québec.
Daniel Kneeshaw, Christian Messier, Alain Leduc, David Paré, Pierre Drapeau, Yves Bergeron. Towards and ecological forestry: sustainable forest management inspired by natural disturbances.
3rd International Workshop on 3rd International Workshop on Disturbance dynamics in boreal forests. Kuhmo, Finland.
Daniel Kneeshaw Incorporating natural variability: Temporal and spatial forest dynamics as a template for mixedwood boreal management.
IUFRO Uneven-aged silviculture workshop: Natural based silviculture - Managing for complexity, Rouyn-Noranda, Québec, Canada.
Daniel Kneeshaw La dynamique de l'érable à épis et son interaction avec le sapin baumier.
68ième congrès annuel de l'ACFAS. Université de Montréal, Québec, Canada.
Daniel Kneeshaw Species mixing and spatial patterns in a boreal mixedwood chronosequence.
4th North American Forest Ecology Workshop : Ecosystem in transition. Corvalis, Oregon, USA.
Daniel Kneeshaw Le développement de normes écologiques de gestion durable des forêts à une échelle opérationelle pour la forêt boréale.
67ième congrès annuel de l'ACFAS. Université d'Ottawa, Ottawa, Ontario, Canada.
Daniel Kneeshaw, Christian Messier, David F. Greene. Canopy gaps, shrub competition and their influence on seedling recruitment.
3rd International Workshop on 3rd International Workshop on Disturbance dynamics in boreal forests. Kuhmo, Finland.